Over the past number of months, we have seen and heard all about the way we should make our city and living breathing space. Bring people back into the city centre, namely High street. Now a stroll or drive up High street, whichever way the traffic goes, for if there is anything that is a dead cert is it will be changed again, again and again. Now speaking of something that is 'dead', our main thoroughfare, how sad it is to see all the empty shops, big and small. So, everyone is agreement 'Let's Make Kilkenny Great Again'.
The plans for High Street look very impressive. Wonderful landscaping. A leafy main street, families with strollers, kids gleefully playing with parents relaxing on the strategically placed seating. A street with walk ways and bike ways running both ways. All that is missing is a canal and one would believe you were 'Somewhere in Europe' as Liam O'Reilly proudly sang for Ireland in the Eurovision when it was the song and not the dancers and acrobatics was the recipe for success.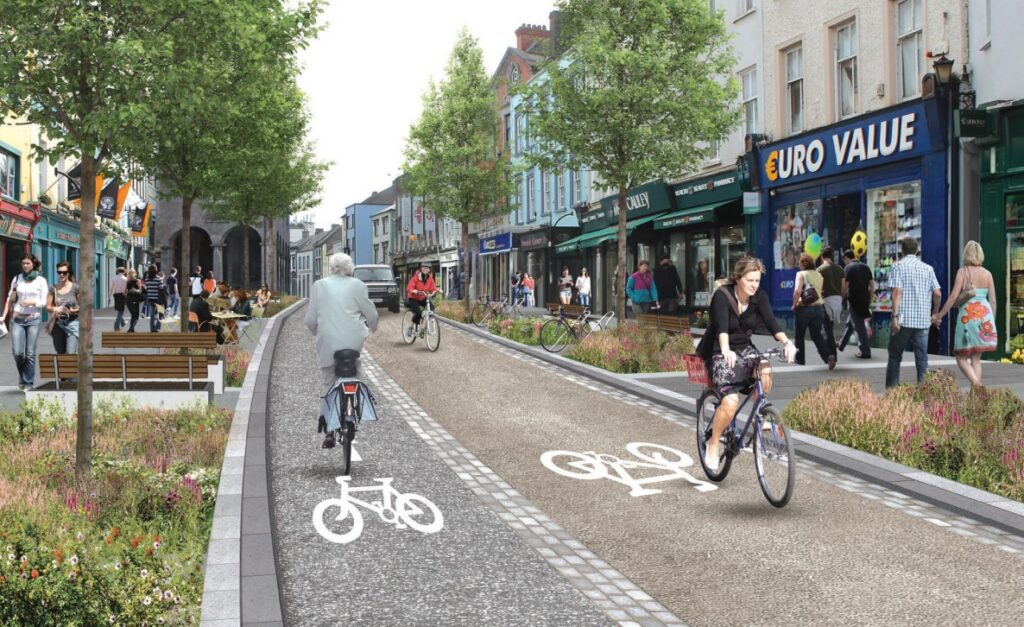 Imagine the afternoon stroll, slight breeze rustling through the leaves of the young saplings while the buzzing Bees , Kilkenny new emblem, seek the pollen from the manicured beds of flowers with colourful displays calling birds and bees to pollinate as the city's 'Bring Back the Bees', aims to highlight how important bees are to our everyday life. Ah yes, the drawings look like something from a Disney Family movie or a Mills and Boon romantic novel.
As we wish to pedestrianize High street as step one, and then maybe Rose Inn Street joining it with Kieran Street we have now the Golden Triangle. Or could it be the Kilkenny Version of the Bermuda Triangle? On closer inspection something is missing. The parking facilities for people with mobility issues and easy access for seniors who need assistances. If you cannot walk 100 meters, the criteria for the blue disk, how do you now experience these new developments? Call to the Credit Union, the greatest example of a community bank, where they have promised to always have staff manned cubicles to serve all including our Seniors. And how do Seniors stroll the high street and browse the current and hopefully new stores that fill the many gaps on both sides of the street from smaller units, up to flag ship units like Argos and Monsoon now departed. One has to ask why have they up sticks and left? Can't be the rates as we are the second lowest rates. Maybe it's the rental terms? For we have to be honest they are out of sync with the footfall figures which we sometimes inflated by selling our retail space on the tourism figures that visit our Castle but never set foot on any of our streets as it's an 'on – off' bus stop tour. Major retailers see the number of tourists visiting Kilkenny, decided to locate a store here, but the turnover does not match their projections, so it is let's cut our losses and close the doors.
A person with mobility issues, no matter what age, need to have motorized access to our main thoroughfare. Otherwise we are making our city center an exclusive venue. For those who make these plans two things that should be remember are, our seniors, those with private pensions, have tremendous spending power. This is recognized by major Toy stores. They now have a targeted advertising campaign as it is grand parents who spend more on toys than parents. And all those, who now are the fit and nimble decision makers, your father time clock is ticking away as your body starts to lose its mobility. The changes you make now will exclude you to! We have to have a socially inclusive equal society. And that includes 'Access for All'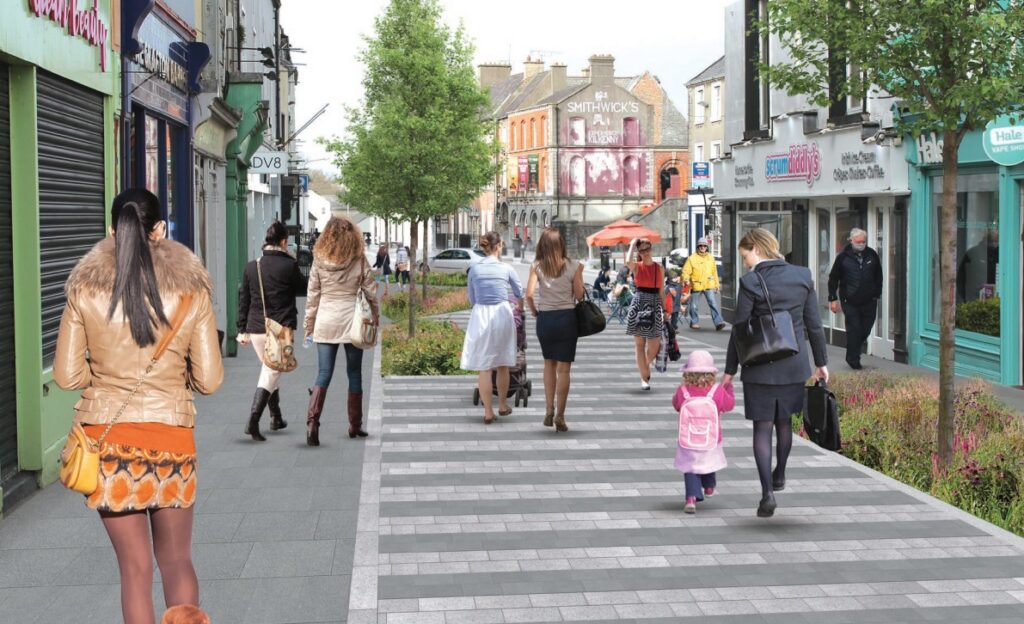 I did ask the question as to how I could get to the stores and financial Institutions on the High street if it is completely pedestrianized. I am one of those who cannot walk the full length of the street due to mobility issues. I was told "Sure use Dunne's stores carpark". Well if I can't get up two flights of stairs trying to navigate our wonderful medieval lane ways like the Butter slip is just a distant memory. Not to be done there I was told "Sure park in Mary's carpark as then it's all downhill to High street" My mother always said think before you open your mouth, advice I should head more to be honest, and so should have this individual. I decided to remined him of the old rhyme, that all you seniors will remember. The grand old duke of York. 'The Grand old Duke of York he had ten thousand men. He marched the up the top hill and he marched them down again, When they were up they were up and when they were down they were down …………….. I hope the penny, or is that now a cent, dropped. If I it down the James' street hill like the Duke of York's men , I d have to make it some how back up the hill to St Mary's carpark.!
Now I hope we are not forgetting our citizens of age and mobility issues. Our great national sporting organization, GAA also seem to be forgetting those who made Kilkenny great. Their new Digital purchase scheme is another action that has a reaction of consequences to our seniors in particular. As our High Street Banks want to create a cashless society where all you spending power is out of your hands and in theirs. As to use the card the cash has to be in your, or should we call it, their account. Seniors and many people believe cash is still King. Ordering in line is alien to us. The navigating of purchasing ticket for a match in Nowlan Park, like last Sunday's Championship game verse Galway, is out of reach of most seniors and the result is sadly missing the game the love and have supported for a lifetime. Some have given over all their free time, free labour to the community cause. This was recently highlighted when an elderly widower told me his disappointment and missing Sunday's big game in his beloved Nowlan Park. He lives alone and has never used a laptop, iPhone or tablet. Actually, when I mentioned have you a tablet, he offered me Panadol as he thought I may have a headache!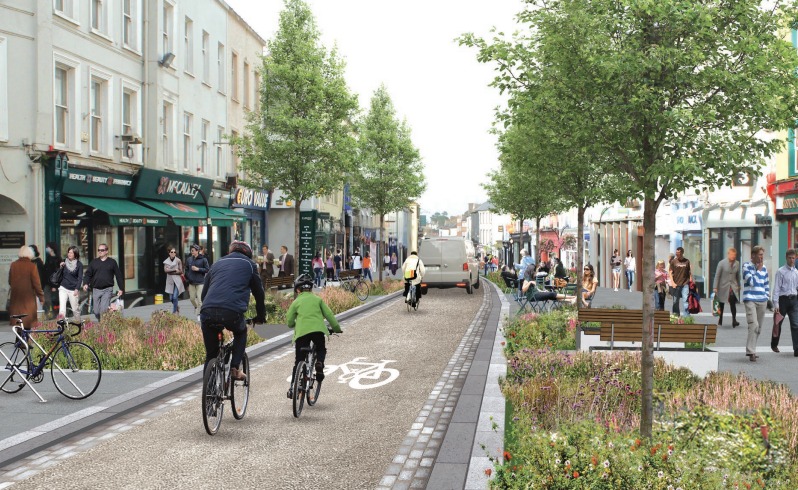 Now those who say they don't want to be handling cash anymore for hygiene concerns. The city sleeker ticket sellers, cash collectors, complain that the bovine farmers where handing in their 'soiled fivers' with hands that hadn't seen water since the left the field the day before after spreading slurry on the vegetables that his missus will gladly have on his kitchen table daily. Now I supposed the GAA had to figure out how when the 'Park' was full the gate was allegedly showing a half full one, how so many people got to watch the game for free is unbelievable!
As we look to upgrade our city to make it a user friendly and people centered and as the three big Banks want you to give up your cash, the GAA don't want it either, well unless it comes in a government grant, do not forget our seniors. We are the people who made our city, built the GAA into an organization envied all over the globe, and bailed out banks. Excluded us at your peril. WE made Kilkenny Great before and we will be the ones you will rely on tomorrow so 'Let's Make Kilkenny Great Again' TOGETHER