15A Hebron House, Hebron Business Centre , Kilkenny R95DD29
Opening Hours : Monday to Friday 10.00 to 14.00.
If you wish to make an appointment out side these scheduled opening hours PM on our Facebook account till new contact details are finalized https://www.facebook.com/Polish-Consulate-Konsulat-Polski-w-Kilkenny-105074321119519/

Opening of the Polish Consulate in Kilkenny City March 2nd 2020
Charter of Friendship Agreement ( 'Communities Are Stronger Together' )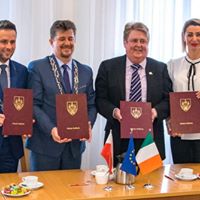 In January 2019 the Municipal District of Malbork and the Twilight Community Group signed a Charter of friendship agreement . This agreements is for all communities in each district to work together as 'Communities Are Stronger Together'
Charter of Friendship Agreement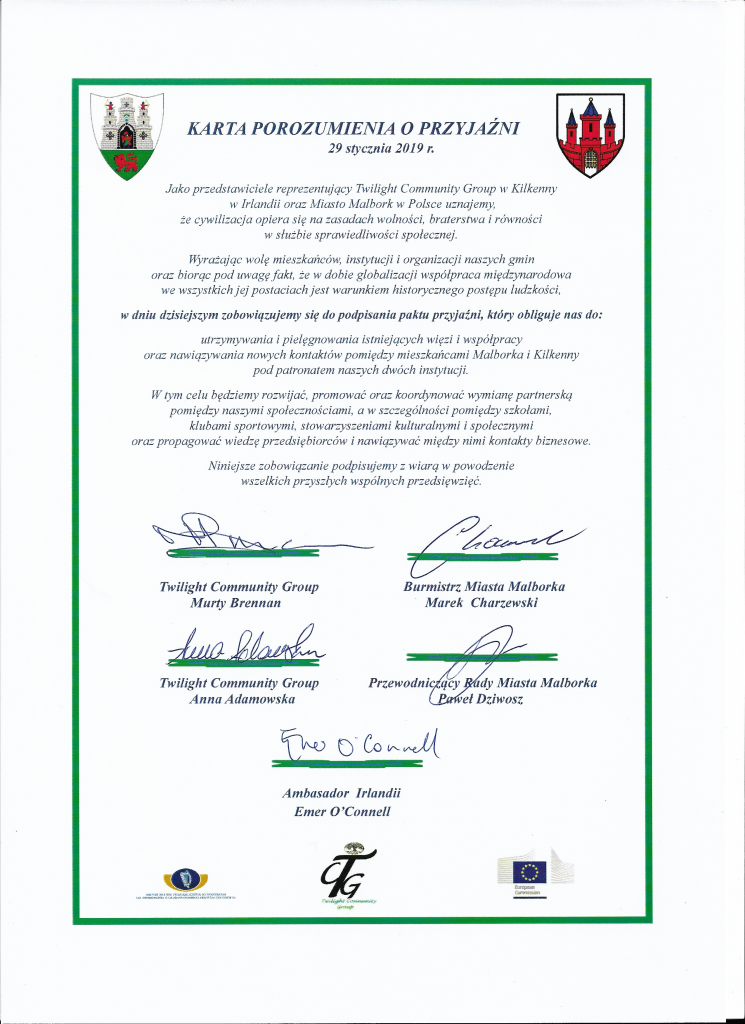 Delegation from Malbork And Kilkenny visit the Embassy of Ireland to Poland , Ambassador Eimear o' Connell signed the Charter of Friendship agreement as Witness to the Partnership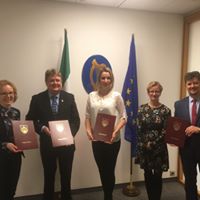 March 17th ( St Patrick' s 2017 saw the signing of the first stage of the Town Twining Agreement between Kilkenny City and Malbork City Poland. This Agreement followed the Twilight Community Group's Twinning Protocols for the first such joining of two great Cities . These 'Twinning Protocols' are the standard practice for all future agreements the Kilkenny Municipal District may plan to do.
The Twining of Kilkenny City & Malbork gave a great impetus to revitalize the Twining Process in Kilkenny . This led to the forming of a Twining Committee which gives Martin Brennan Chair of the Twilight Community Group CLG and HON consular for the Republic of Poland to Ireland a seat on this Twining Committee
Hands across the Boarders