Address: 15A Hebron House, Hebron Business Centre , Kilkenny R95DD29
Opening Hours : 10.00 – 14.00 Monday – Friday
If you wish to make an appointment outside these scheduled opening hours PM us on our Facebook account until new contact details are finalized https://www.facebook.com/Polish-Consulate-Konsulat-Polski-w-Kilkenny-105074321119519/

It's aim is to promote the region of Central Europe with its rich heritage, culture and history.
In July 2020, Poland took over the annual Presidency of the Visegrad Group. In order to celebrate both the Presidency and the upcoming 30th birthday of V4 (which falls in February 2021), the Polish Embassy in Dublin has prepared this short video… to be taken with a pinch of salt. To help make the idea of V4 and Central Europe resonate with the Irish public, this video features everyday people from each V4 state, joined by the Polish Ambassador to Ireland, who talk about their own countries and also the region's history, culture, nature, cuisine, sporting achievements and lifestyle. We thank Andrea, Aurelia, Dita, Sonia, Marian, Radek and Rafał for giving all they've got to the video!For more information on the Polish Presidency of the Visegrád Group go to: gov.pl/v4presidencyFor more information on the Visegrád Group go to: http://www.visegradgroup.eu/
Polish Embassy Dublin.
Due to the highest level of travel restrictions in Ireland in relation to COVID-19 pandemic, we kindly ask you to limit the visits at the Consular Section Embassy of the Republic of Poland in Dublin only to urgent matters. Kind regards,Consular Section Office,4-8 Eden Quay,Dublin
Opening of the Polish Consulate in Kilkenny City March 2nd 2020
Charter of Friendship Agreement ( 'Communities Are Stronger Together' )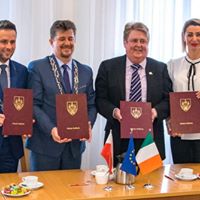 In January 2019 the Municipal District of Malbork and the Twilight Community Group signed a Charter of friendship agreement . This agreements is for all communities in each district to work together as 'Communities Are Stronger Together'
Charter of Friendship Agreement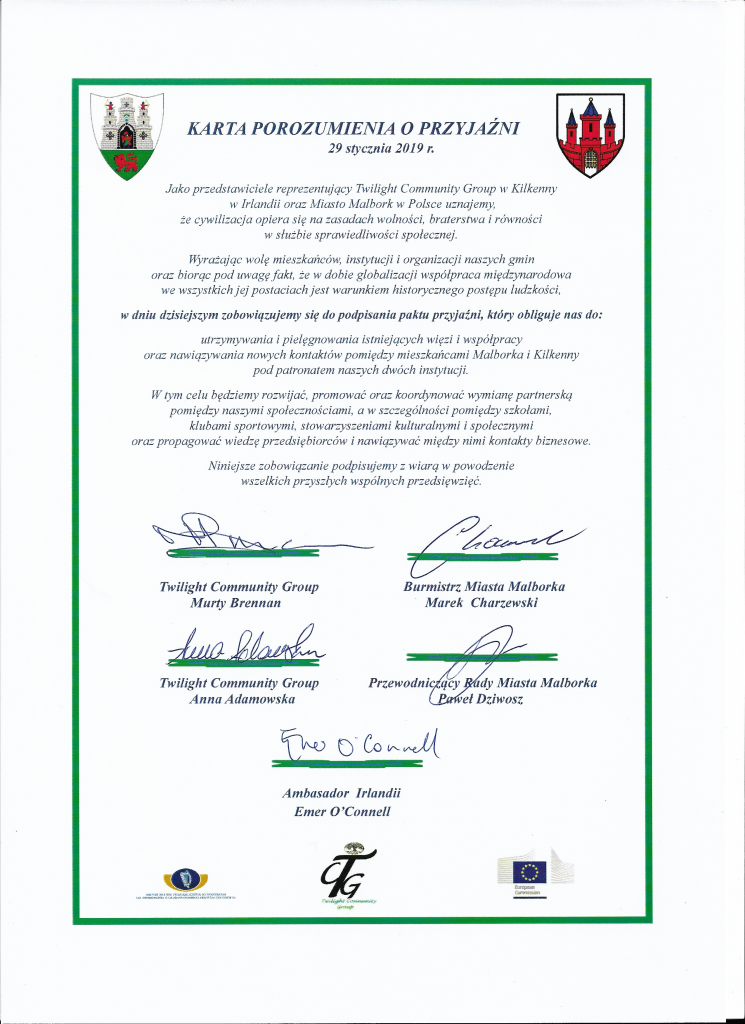 Delegation from Malbork And Kilkenny visit the Embassy of Ireland to Poland , Ambassador Eimear o' Connell signed the Charter of Friendship agreement as Witness to the Partnership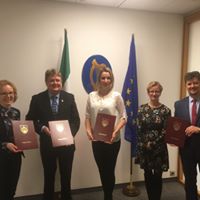 March 17th ( St Patrick' s 2017 saw the signing of the first stage of the Town Twining Agreement between Kilkenny City and Malbork City Poland. This Agreement followed the Twilight Community Group's Twinning Protocols for the first such joining of two great Cities . These 'Twinning Protocols' are the standard practice for all future agreements the Kilkenny Municipal District may plan to do.
The Twining of Kilkenny City & Malbork gave a great impetus to revitalize the Twining Process in Kilkenny . This led to the forming of a Twining Committee which gives Martin Brennan Chair of the Twilight Community Group CLG and HON consular for the Republic of Poland to Ireland a seat on this Twining Committee
Hands across the Boarders