Twilight partners with Taxback to offer members 10% discount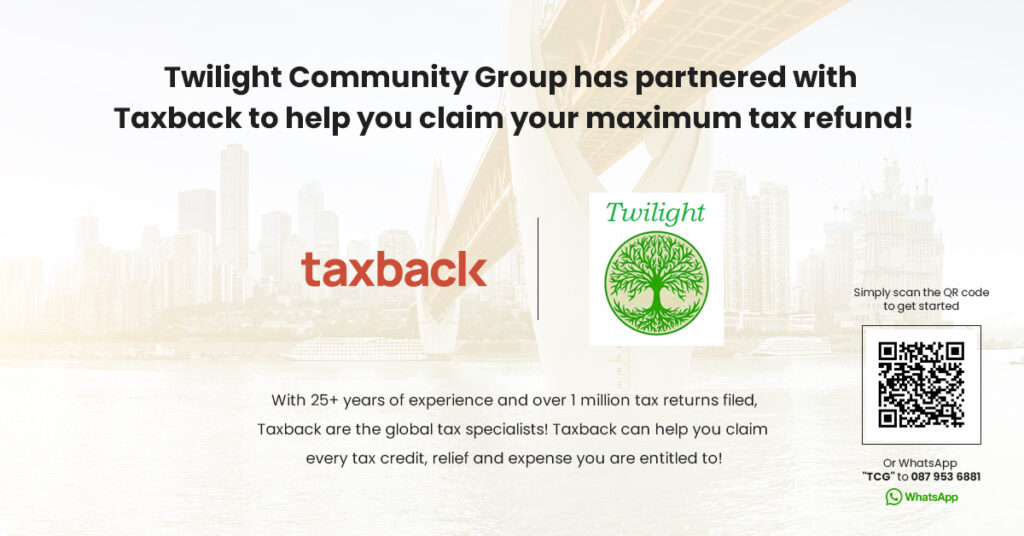 How workers in Ireland can claim their tax refund easily online
Every year, countless workers in Ireland pay too much tax and are entitled to a refund.
However, many people miss out on claiming their tax back as they are unaware of what can be claimed or how to do it.
With this in mind, Twilight Community Group are delighted to announce that we have partnered with Irish tax experts Taxback to offer tax refund application services to our members at a reduced rate.
Taxback have more than 25 years of experience in helping workers and they guarantee that you will receive your maximum refund.
What's more, Twilight members can also avail of a 10% discount when applying with Taxback.
You can quickly get an idea of how much tax back you're due here.
Who can claim a tax refund?
The good news is that most workers in Ireland are entitled to claim a tax refund at the end of the year.
There are a wide range of reasons why you may be due a refund, such as:
You paid medical expenses
You worked from home
You paid to rent your property
You did not work for the full year
You got married recently
And much more!
Exactly how much you will be entitled to claim will largely depend on your personal circumstances. However, the average Irish tax refund is €1,880 so it's a good idea to check what you're owed.
It's also important to be aware that you can go back four years when claiming tax relief. So if you have never claimed your refund before, you could be due a substantial amount back.
How to apply for a tax refund with Taxback
For many people in Ireland, the prospect of claiming tax entitlements can seem daunting.
However, Taxback make the process super easy!
Firstly, it's a fully online process. And by registering here, you can ensure that a Taxback tax expert manages all of the tricky paperwork for you.
This is particularly helpful if you are not confident of what you can and can't claim. They will ensure you are benefiting from every tax credit, relief and expense you are entitled to while also providing you with peace of mind that you are fully compliant with the Irish tax authorities.
Finally, they will file your tax return for you and transfer your refund straight to your bank account anywhere in the world.
And if you have questions about your specific tax situation, the Taxback team are online to support you 24/7. You can even claim your tax back on WhatsApp!
Taxback Benefits
Easy online process – no complicated forms
Your maximum tax refund guaranteed – the average refund is €1,880
Full four year tax review – claim every tax credit, relief and expense you're due
24/7 tax support
Remember, Twilight members can get a 10% discount with Taxback. So why leave your money with the taxman any longer? Get your tax refund here